Digging against time in Italian hotel avalanche rescue
Comments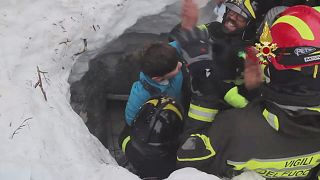 With two more survivors, a mother and her son brought out of the packed snow at the Hotel Rigopiano avalanche site, and signs of life from five more people inside the Italian rescue teams working around the clock have some encouragement for their efforts.
Two days buried, they are heading into their third night, but the eight located so far have looked to be in good spirits and health.
"They survived thanks to this bubble of air that formed inside the hotel. Finding them was really tough because, not only were we working in the middle of the debris, but we also had snow to deal with,' said police rescuer Marco Bini.
Two more bodies have been recovered and another two located, and an inquiry opened into accusations first responders took 11 hours to reach the hotel on skis.
The hotel's manager claims he had to call local authorities several times before they would believe him. More than 30 people including four children were in the hotel when it was crushed by a five-metre wave of snow.