Outcry over Trump attack on civil rights icon John Lewis
Comments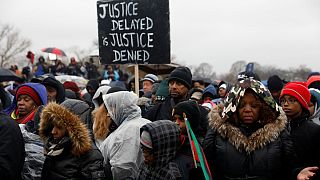 American civil rights activists have begun a week of protests ahead of Donald Trump's inauguration as US president next Friday.
What has been gained... you're going to need more than one election to turn around

Civil rights march organiser
In Washington an estimated 2,000 mostly black demonstrators marched in driving rain on Saturday near the capital's Martin Luther King memorial.
Their aim: to fight to defend hard-fought gains in voting rights and criminal justice which they see as under serious threat when the president-elect takes office.
"Black Lives Matter!" shouted one demonstrator as he marched, in reference to today's movement that campaigns against violence and racism against black people.
The rally's organiser, the Reverend Al Sharpton, said they wanted the nation to understand that "what has been fought for and gained, that you're going to need more than one election to turn it around".
"We come not to appeal to Donald Trump because he's made it clear what his policies are and what his nominations are. We come to say to the Democrats in the Senate and in the House and to the moderate Republicans to get some backbone! Get some guts!" Sharpton told the crowd, which numbered fewer people than organisers had expected.
Thanks to the brave marches today who stood up in driving icy rain for fairness. Don't waste time w/ petty haters, on to the Senate visits.

— Reverend Al Sharpton (@TheRevAl) January 14, 2017
There were calls to fight to defend President Barack Obama's landmark healthcare reform, which Trump has vowed to dismantle. Congress has set in motion moves to repeal the law which set up what became known as Obamacare.
The rally came hours after Trump attacked veteran civil rights campaigner John Lewis. The Democratic Congressman told NBC News' 'Meet the Press' on Friday that he did not consider the Republican to be a legitimate president, as he believed Russian hacking had helped get him elected. He added that he intended to boycott the inauguration.
Lewis soon became Donald Trump's latest target on Twitter. The president-elect said the Congressman should spend more time helping his district which was in "horrible shape", "falling apart" and "crime-infested", rather than complain about the election results.
Congressman John Lewis should spend more time on fixing and helping his district, which is in horrible shape and falling apart (not to……

— Donald J. Trump (@realDonaldTrump) January 14, 2017
mention crime infested) rather than falsely complaining about the election results. All talk, talk, talk – no action or results. Sad!

— Donald J. Trump (@realDonaldTrump) January 14, 2017
Lewis has represented his district in Georgia for 30 years. It includes much of Atlanta and 60 percent of his constituents are African-Americans.
The 76-year-old Congressman is the last surviving speaker from Martin Luther King's March on Washington in 1963. He also received a fractured skull when another civil rights protest was violently broken up by police.
Politicians, entertainers and others have sprung to his defence, accusing Trump of insulting an American hero. More than one pointed out that the attack came on the eve of Martin Luther King day in the US.
Donald Trump just insulted one of America's civil rights icons (on the eve of MLK Day) https://t.co/oc6OayoSoapic.twitter.com/HDAFfEW9cN

— AndrewBuncombe (@AndrewBuncombe) January 14, 2017
That's repjohnlewis</a> almost dying for freedom and voting rights. <a href="https://twitter.com/realDonaldTrump">realDonaldTrump not worthy of uttering John's name. pic.twitter.com/OaNMsuP11c

— Jim Himes (@jahimes) January 14, 2017
Last week John Lewis testified before a Senate committee, expressing concerns over the nomination of Alabama Republican Senator Jeff Sessions to be attorney general. Trump's choice has raised concern that voting rights for minorities may be weakened, and criminal justice reforms rolled back.
We need someone as Attorney General who is going to look out for all of us, not just some of us. https://t.co/7rdUAFrobA

— John Lewis (@repjohnlewis) January 11, 2017