The Australian feral feline epidemic
Comments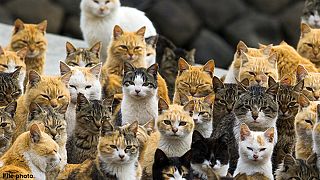 Up to 6.3 million feral cats are wreaking havoc on Australian wildlife. Felines, like other invasive species such as rabbits, were introduced to Australia in the 19th century by settlers.
In Australia, feline predators have few natural enemies to keep their populations in check so they multiply uncontrollably. At the same time, native Australian fauna, particularly small marsupials, have evolved without the presence of cats and have little or no means to defend themselves.
A review of impacts & management of feral cats in Australia, and priorities for research & management https://t.co/slEaUO8zVSTimDoherty_</a> <a href="https://t.co/MwPqfqhh0r">pic.twitter.com/MwPqfqhh0r</a></p>&mdash; C.I.E. - Deakin Uni (DeakinCIE) December 9, 2016
Feral cats have been linked to the extinction of over 20 native mammals. Measures already in place, such as fenced-off "predator-free-zones," have been described as "using small bandages for a large wound". Other potential cat-reducing measures include increasing the dingo population in key areas and creating pockets of dense habitat so small marsupials have"boltholes" to escape.
Forty researchers combining 100 surveys collaborated on a study published in December, 2016, in the journal Biological Conservation . They discovered that feral cats are present in 99.8% of Australia's land area.
'Enumerating a continental-scale threat: How many feral cats are in Australia?' https://t.co/L8i5jFsfuv Legge et al. RichardMcLellan</a> <a href="https://t.co/o7pPh9Oxj1">pic.twitter.com/o7pPh9Oxj1</a></p>&mdash; Euan Ritchie (EuanRitchie1) December 20, 2016
In 2015, the former Environment Minister and aptly named, Greg Hunt,announced plans to cull two million cats by 2020 before feeling the wrath of Brigitte Bardot who described the move as constituting "animal genocide".
Brigitte Bardot to Greg Hunt: killing two million feral cats is 'animal genocide' http://t.co/gWq9tKG3eb

— Animals1st (@Animals1st) July 23, 2015
Threatened species commissioner Gregory Andrews is in favour of Hunt's policy. But even if Brigitte Bardot gave her blessing, it would be no small feat. Cats are difficult to hunt and prefer live prey to bait set in traps. The extent of the damage the cats are causing put previous population estimates way over the mark at 20 million.
The study's lead author, Sarah Legge from the University of Queensland said:
"Our study highlights the scale and impacts of feral cats and the urgent need to develop effective control methods, and to target our efforts in areas where that control will produce the biggest gains".