Another prison riot claims lives in Brazil
Comments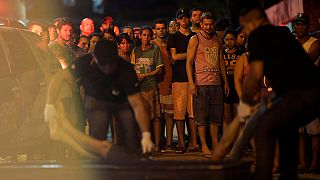 At least 33 inmates have been killed in the latest prison riot in the Amazon region of Brazil.
It comes only five days after 56 inmates were slaughtered in the country's worst prison massacre in more than two decades.
At least 33 inmates have been killed in a riot at a prison in northern Brazil https://t.co/rJ2FwjAMOX

— Sky News (@SkyNews) January 6, 2017
What has happened?
Few details are available about the latest uprising in Roraima state's largest penitentiary.
There were ten deaths at the facility as a result of a fight between rival drug gangs last October.
Quoted in local newspapers, the state's most senior security official has blamed Friday's violence on the Sao Paulo-based First Capital Command (PCC) drug gang.
Violent prison riot in Brazil kills 33 inmates https://t.co/ZyyM4RMHUS

— Daily Mail Online (@MailOnline) January 6, 2017
The

PCC
Members of the PCC made up the majority of the 56 people killed in a riot at a prison in nearby Amazonas state earlier this week.
The decapitated bodies of the victims were reported thrown out over the prison wall.
The rival North Family drug faction is believed to dominate the traffic of cocaine from Colombia and Peru in the region.
The North Family is allied with the Rio de Janeiro-based Red Command drug gang.
The Red Command is Brazil's second most powerful faction after the PCC.
The context
Security experts have predicted more violence in Brazil's gang-controlled prison system in the wake of the massacre earlier this week in which members of one drug gang butchered inmates from a rival group.
Brazil prison riot, a 'butchery foretold,' sparks fear of more killings https://t.co/WotTExwei7

— Reuters Top News (@Reuters) January 4, 2017