China pollution alerts: "My baby is not allowed outside these days"
Comments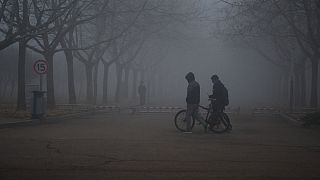 Smog and fog alerts in Beijing are keeping people indoors and disrupting traffic.
The Chinese capital has issued its top red fog alert, warning that visibility is down to 50 metres in some places.
Some highways are closed and flights grounded.
Beijing already has its second highest smog alert, with dangerous winter pollution levels.
Check out this time-lapse video of smog in China:
"It's a pretty big impact," said one resident. "My baby stays at home and is not allowed to go out these days.
"The elderly and children do not go outside, and I usually put on a mask when going out to work. I don't want to go outside in such weather, and my mood is pretty bad."
"It makes me so depressed"
Pollution has become common in China during winter with coal used to meet soaring energy demands.
Authorities are battling the smog with various measures, insisting that slowly but surely pollution levels are coming down when comparing year-on-year figures.
But critics say the measures are having little or no effect and a radical shift in thinking is needed.
Gao Yan, a Beijing resident, told reporters: "Nobody likes smog. It brings many negative effects on people's emotions and we all feel very bad about it.
"We see items on social media and read media reports everyday about smog and they make us feel so depressed."
Zhan Yan, another resident, said: "I feel so depressed. I have a child but I can only keep him at home and he can't even go out into the sunshine, this really worries me. It's grey everywhere. What about the future?"
However, despite the pollution alert, Beijing authorities say the concentration of harmful particles was down almost 10 percent last year and the number of blue sky days was up 12 to 198.