Greek central bank sees 2.5 percent growth for 2017
Comments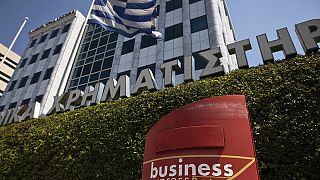 The Greek economy is forecast to expand by 2.5 percent next year – way better than this year's anticipated 0.1 percent.
The strong growth outlook comes from Greece's central bank, which at the same time criticised the government's controversial plan to pay a Christmas bonus to the country's poorest pensioners.
That decision led to the eurozone's financing arm suspending some short-term debt relief measures.
The central bank is calling for "pragmatism and flexibility" so that a review of Greece's progress on its bailout-mandated reforms can be concluded as soon as possible.
"There is not much time left, in the light of upcoming national elections in a number of euro area countries," the bank said in its interim monetary policy report.
The central bank said the country had made headway in implementing its bailout reforms. "Under no circumstances should this progress be halted," it said.
Bank of Greece sees potential for recovery, urges calm in negotiations https://t.co/BSx5tGxqpi#Greece#economy

— MacroPolis (@MacroPolis_gr) December 16, 2016