Tsipras defiant as Greek pensioners Christmas bonus is approved
Comments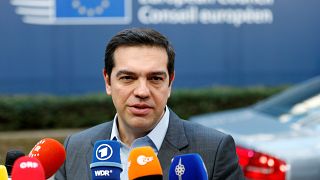 The Greek government is downplaying a row over a Christmas bonus for the country's poorest pensioners.
That unapproved spending caused eurozone lenders to suspend Athens short-term debt-relief plan, but Prime Minister Alexis Tsipras in Brussels for an EU leaders summit remained optimistic: "I believe that now is the time to have a breakthrough. I will have a chance to discuss with a lot of my colleagues. I believe that we can have a breakthrough without blackmail and with respect for the sovereignty of this country."
Also at the summit, the European Commissioner for Economic and Financial Affairs Pierre Moscovici, seems to be siding with Athens on the issue. He told reporters: "I think it is really impossible to oppose the debt relief for Greece, which is indispensable, and the social cohesion and social justice that the Greek people expect. So, the discussions need to be continued in order to reach a conclusion that will go in the right direction."
Pensioners again protested their plight on Thursday outside the Greek parliament as inside lawmakers approved the one-off Christmas bonus for 1.6 million pensioners intended to show Tsipras defying Brussels on behalf of those who have been hit hardest by austerity.
But in Athens pensioner Jenny Papanikolaou complained it changes nothing in the long run: "[Tsipras] might give the pensioners some amount now, but it's just once. Cutting the pensions and the accounts from the pensioners… it takes back more than what he is giving."
She says her pension has more than halved in recent years and like many in Greece she faces a miserable Christmas as taxes and the cost of living rise.