Hundreds march in unity against Saturday's twin bombings in Istanbul
Comments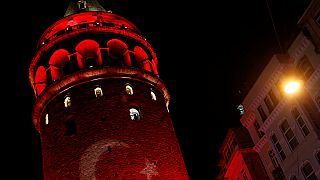 Hundreds remember victims in unity march
Death toll rises to 39 after one survivor dies in hospital
Turkish government vows vengeance against attackers
Hundreds of people have marched to Istanbul's Besiktas football stadium in a show of unity against Saturday's twin bombings.
" we will continue the fight against terrorism to the end"

Turkish President
The number of victims has risen to 39 after one survivor has died from his injuries in hospital. At least 155 people were wounded in what appears to have been a coordinated attack.
Anti-terror march held in İstanbul following twin bomb attackshttps://t.co/NQ6ztVKl05pic.twitter.com/qK1hULQVeQ

— Turkish Minute (@TurkishMinuteTM) December 11, 2016
An offshoot of the banned Kurdistan Workers Party a group known as the Kurdistan Freedom Hawks (TAK) has said it carried out the bombings on its website.
Turkish President Recep Tayyip Erdogan visited some of the injured in hospital.
He has vowed to fight what he called "the scourge of terrorism to the end", and promised that the attackers would pay a "heavy price".
In remarks directed at pro-Kurdish politicians, a warning went out to anyone showing sympathy towards the attackers.
In recent months thousands of Kurdish politicians have been detained, including dozens of mayors and the leaders of the Peoples' Democratic Party (HDP), parliament's second-biggest opposition party, accused of having links to the PKK.
The crackdown against Kurdish politicians has coincided with widespread purges of state institutions after July's failed coup, which the government blames on followers of a U.S.-based Muslim cleric.
Saturday night's blasts – a car bomb and a suicide bomber – have shaken a nation which is still trying to recover from a failed military coup and a number of bombings this years. They include one in June, when around 45 people were killed and hundreds wounded as three suspected ISIL militants carried out a gun and bomb attack on its main Ataturk airport.
UPDATE: TERROR IN TURKEY
-Death toll jumps to 38 from 29, including 30 police officers and 7 civilianshttps://t.co/hdb5sXub46pic.twitter.com/kEH6dCbFVA

—

ABC

News (@ABC) December 11, 2016
On Sunday night security remained tight in Istanbul. Thirty of the victims are said to have been police officers.
A government spokesman said 13 people have been arrested since the attacks but gave no details.