Pearl Harbor: America marks 75-year anniversary of Japan attack
Comments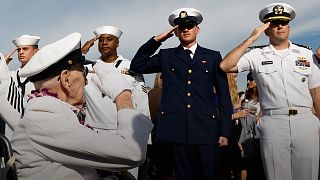 Americans across the country have commemorated the December 7th 1941 attack on the military base at Pearl Harbor in Hawaii.
Veterans joined current US military personnel to mark the moment when the surprise Japanese attack began.
At least 2,400 Americans died that day, over a thousand more were injured.
Pearl Harbour – First UK Report (Pathe News) https://t.co/kWt4×1cejM

— Prof.Frank McDonough (@FXMC1957) December 7, 2016
Today's head of the US Pacific fleet Admiral Harry Harris said the commemorations were a "precious opportunity to reflect".
"To reflect on what it means to be a patriot. To reflect on what it means to be a nation tested by war. And to reflect on both the costs and the blessings of liberty."
Commemorations were also held in Washington DC attended by Vice president-elect Mike Pence and Senator John McCain, himself a military veteran.
In 1941 for a period of two-hours Japanese warplanes rained bombs down on the US fleet, destroying, damaging or sinking several warships. Over half of the days casualties were from the USS Arizona.
The attack shocked America which declared war on Japan the next day. Three days after that, Germany's Adolf Hitler declared war on the United States bringing America into World War Two.
Seventy-five years on and President Barack Obama said that today's friendship between the two nations is a testament that even the most bitter of adversaries can become the closest of allies.
Later this month, Prime Minister Shinzo Abe will become the first Japanese leader to visit Pearl Harbor. He will be joined by Barack Obama – the first serving US president to visit Hiroshima in Japan where the United States dropped an atomic bomb in the closing days of the war.