€4.4bn US Navy warship breaks down... again
Comments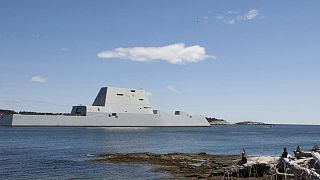 Just 6 months ago, the US Navy acquired the world's most technologically advanced destroyer.
Now, on its journey across the Americas, the €4.4bn USS Zumwalt has broken down in the Panama Canal.
The 15,000 ton, 183m vessel is not what is usually considered "stealthy", but thanks to its revolutionary angular design, the gargantuan ship has a radar profile 50 times smaller than other ships of the same size.
But USNI News, which describes itself as the "US Naval Institute's online news portal", reported that the Zumwalt had lost propulsion while in the Panama Canal.
Crew also reported seeing water in parts of some electrical motors on the ship.
The USS Zumwalt has been ordered to remain at the former US Naval Station Rodman, in Panama, to solve the issues.
US Third Fleet spokesperson Ryan Perry said "The schedule for the ship will remain flexible to enable testing and evaluation in order to ensure the ship's safe transit to her new home port in San Diego".
The ship was built in Maine, a state in the north of the US east coast, but will be based in San Diego, California, in the south west of the United States.
Naval Base San Diego is one of the US Navy's largest ports, and hosts 46 ships of the Pacific fleet.
But this is not the first problem the Zumwalt has encountered. The propulsion system also suffered a similar fault to the propulsion system whilst in Norfolk, Virginia, and repairs took much longer than expected.
It is unknown if this most recent delay will be extended by Tropical Storm Otto, now a Hurricane headed towards Costa Rica, which struck Panama on Tuesday, killing at least 4 people.