Draghi sees green shots of recovery across eurozone
Comments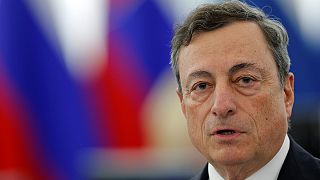 The eurozone is recovering at a "moderate to steady pace and unemployment is falling" according to the European Central Bank's president.
Mario Draghi's verdict came at the European Parliament in Strasbourg as MEPs debated monetary policy.
Draghi added the ECB remains committed to continuing "the current unprecedented level" of monetary support to help inflation rates return towards the Bank's 2% target.
"Euro area unemployment has been steadily declining. More than four million jobs have been created since 2013, when the situation was at its worst. Domestic demand has also strengthened and real GDP growth has recorded positive figures for 14 consecutive quarters," Draghi said.
Draghi also repeated his call for member states to do more stimulate growth.
"The implementation of structural reforms needs to be substantially stepped up. This concerns, in particular, policy actions to raise productivity and improve the business environment," said Draghi.
On Tuesday MEPs are expected to vote to back the bank's "structural reform" policies in a non-binding motion but at the same time warn the ECB not to abuse its new supervisory powers over large banks.
ECB officials have also expressed growing concern that the change in the White House may lead to more protectionism which could harm the already fragile euro zone economy.