Dollar muscles ahead, strongest since 2003 against basket of currencies
Comments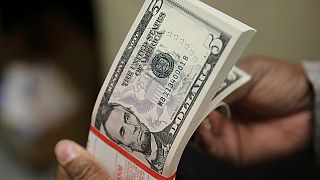 The US dollar continued to power ahead on Friday, hitting its highest levels since April 2003 against a basket of currencies.
Donald Trump's election victory and spending plans are providing that boost.
"What we're looking at is a broad shift of investment back to the US," said Richard Cochinos, Citi's head of G10 currency strategy in London.
"There are expectations for tax cuts next year – which were part of the Trump campaign's promises – and then there's also the idea of what type of fiscal boost are you going to have. That's what's driving asset prices – it's people's expectations for the fiscal impulse next year," he added.
Dollar Pushes to New Highs—With New Risks: #fx$USD$DXY#CorporateProfitshttps://t.co/sqA3fbvbvL

— Will Nelson (@NelsonThought) November 18, 2016
Euro, pound and yen averse
Political and economic worries in Europe, Britain and Japan are also keeping investors away from those countries' currencies.
Federal Reserve Chair Janet Yellen's signal on Thursday of a probable US interest rate hike in December has helped, with financial markets betting on a faster progress in rate rises.
"The new US policy mix suggests that more Fed hikes have to be priced," said Societe Generale currency strategist Olivier Korber in Paris.
While Yellen did not explicitly say the Fed would take action at its December 13-14 policy meeting, she told a Congressional committee that a rate hike was likely "relatively soon".
Emerging economies – which have benefited from the Fed's money printing in the past – are now under pressure, with some having to shore up their currencies as investors anticipating better returns move their money back to the US.
Euro risks
Societe Generale currency strategist Olivier Korber said: "With lasting policy uncertainty and potential protectionism, there are probably enough ingredients to consider the risk of massive new dollar appreciation. If the negative political surprises don't stop there and have a far more dramatic impact on Europe, the euro could fall much more."
The euro – which is facing a slew of political risks, including an Italian constitutional referendum next month and French and German elections next year – hit an 11-month low of $1.0582 before recovering to trade flat on the day at $1.0620.
The single currency is on track to record its weakest fortnightly performance against the dollar in 20 months.