Aleppo's famed cat sanctuary among recent victims in war-torn Syria
Comments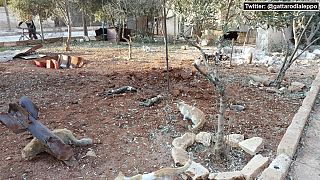 The vicious battle for life and death in besieged Aleppo leaves little room for anything else and continuous air strikes, which have gutted the city, claim the lives of dozens each and every day.
At least 32 people including children have been killed this week by renewed air strikes on rebel-held sections of Aleppo. The bombardments, which also hit a hospital and blood bank, is a sign the struggle to control the city is intensifying as the Syrian army and forces loyal to Syrian President Bashar al Assad attempt to dislodge rebels.
But residents have nevertheless fought to maintain a few strands that link them back to the "normal" existence of before the conflict. For instance a few underground schools still operate and there is even a library service.
Perhaps the most surprising institution that survived the intense bombardment was the city's cat and dog sanctuary.
Survived until this week because the shelter, run by Mohammad Alaa Aljaleel, has become the war's latest casualty and a symbol of the war's brutality.
Of course amid the horror and carnage of the city, the destruction of the building and deaths of two cats and a dog would not be worth a mention except for the symbolism of what they represented: one of the last remaining symbols of pre-war life in the city.
They bombed our house of cats Ernesto today: they killed some of our cats, also killed our beautiful dog Hope. !

— Il Gattaro D' Aleppo (@gattarodialeppo) November 16, 2016
Alaa Aljaleel, an ambulance driver and electrician refused to leave Aleppo in order to look after the city's cats and dogs who have nowhere else to go.
The shelter provides food for more than a hundred cats in the city. Some of them are strays but many others are pets Aleppo residents gave to Alaa Aljaleel to look after as families fled the city.
Alaa Aljaleel's home was also hit in Wednesday's bombardment. He was lucky to survive. The shelter's mascot, a dog named Hope, and at least two cats were not. They died in the air strike.
Excuse us today we can not show you the cats,because ……
ladies and gentlemen, this is our home of Ernesto cats today. pic.twitter.com/XiaVzAOH6x

— Il Gattaro D' Aleppo (@gattarodialeppo) November 16, 2016
Recent video posted to twitter shows some of the shelter's cats, visibly distressed.
Alaa Aljaleel's animal sanctuary first made headlines in 2014 when, activist Alessandra Abidin, contacted him and offered her help.
Together they created a Facebook page Il gattaro d'Aleppo. Abidin manages the shelter's social media and helped set up a donation scheme, the funds of which, go toward providing the refuge's animals a proper shelter.
The shelter is helped by more than 4,000 members on Facebook and they coordinate with supporters all over Europe, the United States and South Korea who donate funds to help Alaa Aljaleel feed his charges.
"What many people don't know is that, through the cat shelter, we've collected a lot of donations to help people in Aleppo at all levels," Alaa Aljaleel said speaking to Syria Direct.
Donations funneled through the cat shelter have also paid for three wells and two ambulances for the city.
House of cats Ernesto in Aleppo today .. pic.twitter.com/oR4M9QM3lH

— Il Gattaro D' Aleppo (@gattarodialeppo) November 17, 2016
It is unclear, given the air strike, how the shelter will operate in the future.