Trump Muslim ban removed from site by accident
Comments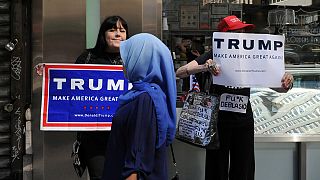 Hopes that Donald Trump had changed his tune on Muslims were dashed, as it was revealed that his statement on banning Muslims was taken down from his website by accident.
Many, including Saudi Prince Alwaleed bin Talal, had hoped that the
apparent removal
of a link to his December 2015 speech calling for a "complete shutdown of Muslims entering the United States" hinted at a softening of the President-elect's views.
Prince bin Talal appeared on US television on Thursday to praise the newly elected Republican for removing the statement.
However, Trump spokesperson Steven Cheung revealed that the redirection from the page to the website's homepage was in fact down to a technical glitch, rather than a change of policy.
When it became clear that President-elect Trump had not had such a change of heart, Samer Khalaf, president of the American-Arab Anti-Discrimination Committee said "false hope had come over us".
Despite the apparent technical issues, many of Trump's policy points and statements remained on the website. This included his other major immigration policy, a promise to build a wall along the US-Mexico border, and insist the Mexican government pay for its construction.
However, it remains unclear whether Trump is indeed still planning to enact this ban, after his then-running mate Mike Pence cast doubt over the issue in October this year.
Now the Vice President-elect, Pence told reporters such a ban was not Donald Trump position now.
Tthis is not the first time information has mysteriously disappeared from Trump's website.
When questions were asked about his wife Melania's university degree, with some suggestion that she did not complete her studies, Mrs Trump's biography was removed from the site, and instead visitors were directed to the homepage of one of Trump's many golf courses.