No US interest rate rise expected from Federal Reserve this month
Comments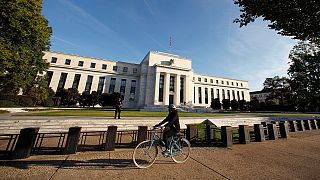 Decoding the thinking of the Federal Reserve is this week's top task for the financial markets.
On Tuesday, policymakers at the US central bank started a two-day meeting at which they could announce an increase in the cost of borrowing, but few on Wall Street expect them to raise interest rates this month.
The wording of the Fed's statement at the end of the meeting on Wednesday will be closely studied for clues on the timing of the next hike.
The factors that influence the Fed are employment and inflation – both of which are rising in the US. Growth too has improved, with the US economy accelerating at a 2.9 percent annual pace in the third quarter after a fairly sluggish first half.
That led three members of the decision making committee to call for an interest rate hike at their last meeting back in September.
Low profile ahead of the election
Most bets are on December for the next increase given that this week's meeting comes just days before the presidential election.
The conventional wisdom is that the central bankers will want to keep a low profile.
As economist Michael Feroli, a former Fed employee now working as an analyst for the bank JPMorgan, said: "It's widely understood that it would be politically treacherous for the Fed to hike just before a very heated election."
And whoever wins would also have an impact on the Fed's decision in December.
Alan Blinder suggests 2 reforms to the Federal Reserve – and 4 "anti-Fed" ideas the next president should oppose: https://t.co/sl7kOPUcit

— Brookings Econ (@BrookingsEcon) November 1, 2016