Thousands flee as battle for Mosul rages
Comments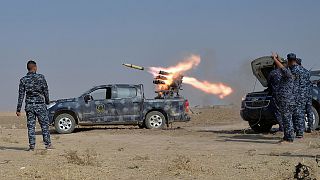 An estimated 10,000 people have already fled villages caught up in the battle for Mosul. And they keep on coming. They head for the relative safety of behind the Iraqi military front line.
IRAQ – Displaced Iraqis arrive at refugee camp in Qayyarah as an operation to recapture Mosul from the IS group takes place. By Kilicbil</a> <a href="https://t.co/CIfD1pa6Vw">pic.twitter.com/CIfD1pa6Vw</a></p>&mdash; AFP Photo Department (AFPphoto) October 23, 2016
While ISIL fighters are reportedly maintaining a fierce defence of the southern approaches to the city, more and more survivors from their brutal rule are making their escape.
But with them come tales of atrocities such as as prisoners being executed and women and children being shot when forced to march from one village to another.
There have been reports that ISIL militants have warned civilians fleeing Mosul they will be killed, and have used the city's residents as human shields. Civilians who have attempted to leave the city have been publically murdered by ISIL fighters.
One man described the situation as "terrible":
"They would question everything about your life, your work, you have to give them money, pay them Zaka (Islamic charity). My brother was killed by Daesh, because he wanted to join the security forces. Anyone who wanted to join the security forces would be killed."
Anticipating an influx of refugees from the fighting, aid agencies have begun to prepare.
This is what building a #refugee camp looks like. NRC teams are working non-stop for people fleeing #Mosul to find appropriate shelter. pic.twitter.com/OWI0JwD03c

—

NRC

MiddleEast (@NRC_MiddleEast) October 24, 2016
Tens of thousands of tents are being erected by UNHCR workers, ready to house some 150,000 refugees it expects to flood into its camps as the fall of Mosul appears inevitable.
But with estimates saying that number could later reach as many as one million, their work has only just begun.
Refugee camps are being expanded and built to handle the influx of people fleeing Mosul. https://t.co/H0Mgwfwjzlpic.twitter.com/DgJG9aYjlc

—

NYT

Graphics (@nytgraphics) October 18, 2016