Trump and Clinton battle over trade and jobs
Comments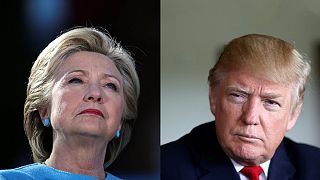 The economy remains a hot button issue in the US presidential election.
The candidates have focused on jobs and trade – particularly the planned Transatlantic Trade and Investment Partnership, or TTIP agreement, between Europe and the US.
Both have blamed the loss of American jobs on those kinds of free-trade deals.
Hillary Clinton has criticised TTIP, and the Trans-Pacific Partnership trade agreement between the US and Pacific nations – TPP.
By doing that she has been courting the left of her Democrat party and plugging into the protests against them by unions and environmental groups who believe multinationals gain too much power through such agreements.
Trump talks tough on trade and Chinese steel hurting American workers—but he bought Chinese steel for two of his last three buildings.

— Hillary Clinton (@HillaryClinton) 10 octobre 2016
On the campaign trail Trump has delighted in pointing out that Clinton originally supported these Obama administration policies.
But his strongest comments are directed at NAFTA, the North American Free Trade Agreement between the US, Canada and Mexico which he has promised to abolish if elected.
I will renegotiate NAFTA. If I can't make a great deal, we're going to tear it up. We're going to get this economy running again. #Debate

— Donald J. Trump (@realDonaldTrump) October 20, 2016
Rational not emotional
The head of the World Trade Organisation Roberto Azevedo warned recently against this kind of anti-global trade rhetoric saying it may make it more difficult for the next US president to come back on those comments, if required.
"My concern is that if you step up your rhetoric it becomes harder and harder to backtrack," he said..
Azevedo said: "You need to bring rationality back to the conversation about trade. It cannot be an emotional conversation."
"It is very difficult because people are affected in their everyday lives by these shifts. But these shifts are not caused by trade," he said, citing that eight out of the 10 jobs lost are due to increased productivity, new technologies, automation, rather than jobs being delocalised to countries with cheaper labour costs.
He declined to comment specifically on Clinton's and Trump's comments on global trade deals and what actions either candidates would take as president.
"We have to see who wins and what kind of policies they want to implement," he said.