The longest delivery order in the Galaxy
Comments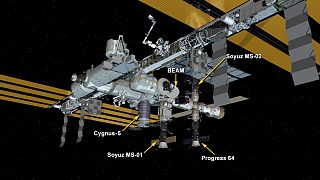 An Orbital ATK Cygnus capsule loaded with 2,400 kilos of food, supplies, equipment and science experiments has docked with the International Space Station, 410 kilometres above the earth.
The unmanned capsule lifted off from aboard an Antares rocket on Wallops Island in Virginia on Monday.
A successful launch
The last Antares launch in 2014 ended in disaster a few seconds after lift-off, due to a problem with the booster's refurbished, Soviet-era engines.
After the accident, Orbital sped up plans to replace the motors.
A crucial service
The mission became more crucial for the US space agency after a an accident in September destroyed a rocket operated by SpaceX.
The accident happened while the rocket was being refueled for a pre-launch test.
SpaceX, the only company apart from Orbital currently contracted by NASA to fly cargo to the space station, has been temporarily grounded.
Special delivery
Private contractors for the cargo runs became necessary following the retirement of the space shuttles in 2011.
With SpaceX sidelined, NASA said it added extra food, clothing, laptop computers and spacesuit parts to the Cygnus cargo list.
Orbital ATK Cygnus Supply Ship Arrives at Space Station https://t.co/TreWyELcZ3pic.twitter.com/y6r2uIIw9j

—

SPACE

.com (@SPACEdotcom) October 23, 2016
The #Cygnus resupply ship approaches the station during orbital sunrise. pic.twitter.com/HxHPFHnUxX

— Intl. Space Station (@Space_Station) October 23, 2016
Human cargo
Three new crew members arrived at the ISS on Friday.
NASA astronaut Shane Kimbrough arrived in orbit on Friday, along with cosmonauts Andrey Borisenko and Sergey Ryzhikov of the Russian space agency, Roscosmos.
They replaced three other ISS crew members who have been on the ISS since July:
Kate Rubins (

NASA

)
Anatoly Ivanishin (Roscosmos)
Takuya Onishi (Japan's Aerospace Exploration Agency)
Kimbrough, Ryzhikov and Borisenko's mission will last until February.