South Africa to withdraw from the ICC
Comments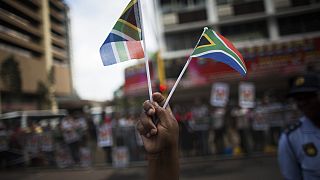 A startling disregard for justice

Human Rights Watch
South Africa has formally announced plans to withdraw from the International Criminal Court.
The country's Justice Minister, Michael Masutha, says the court's obligations are not consistent with legislation granting diplomatic immunity to sitting leaders.
"The implementation of the Rome Statute of the International Criminal Court Act, 2002, is in conflict and inconsistent with the provisions of the Diplomatic Immunities and Privileges Act, 2001," Masutha told a press conference in the South African capital, Pretoria.
The requirement to arrest sitting heads of state who are indicted by the court could lead to regime change, Masutha explained.
This would go against South African legislation guaranteeing visiting leaders diplomatic immunity.
Masutha said a bill to repeal South Africa's adoption of the ICC's Rome Statute will soon be brought to parliament.
He said this would ensure the country's continued ability to conduct active diplomatic relations.
Withdrawal from ICC to allow South Africa to give diplomatic immunity to heads of state who may be wanted for human rights abuses – Minister

— Reuters Africa (@ReutersAfrica) October 21, 2016
South Africa should be able to host conflicting parties for peace talks but Rome Statute hinders, impedes this – Minister #ICC

— Reuters Africa (@ReutersAfrica) October 21, 2016
Min Masutha says the implementation of the Rome Statute is in conflict and inconsistent #ICCpic.twitter.com/DFHPwfVvzz

— SA Gov News (@SAgovnews) October 21, 2016
What is the next step?
A document seen by the Reuters news agency at the UN on Thursday says the decision would become final one year after notice is formally received by Secretary-General Ban Ki-moon.
The document was signed by South Africa's Minister of International Relations and Cooperation, Maite Nkoana-Mashabane. It was dated October 19.
BREAKING: U.N. confirms receipt of South Africa's withdrawal from International Criminal Court

— Reuters Top News (@Reuters) October 21, 2016
What is the context?
Pretoria said last year it was planning to quit the jurisdiction of the Hague-based tribunal.
It was criticised for ignoring a court order to arrest Sudanese President Omar Hassan al-Bashir during a visit last year.
He stands accused of genocide and war crimes, accusations he has denied.
What is the

ICC

?
The International Criminal Court is the world's first legal body with permanent international jurisdiction to prosecute genocide, crimes against humanity and war crimes.
Set up by 1998 Rome Statute
Opened July 2002
124 member states
34 African member states
The US is not a member
9 of 10 current investigations are in Africa
Are any other countries planning to leave?
Yes.
Last week, politicians in Burundi voted overwhelmingly in support of plans to withdraw from the ICC.
"A startling disregard for justice"
Rights campaigners are criticising South Africa's decision.
"South Africa's proposed withdrawal from the International Criminal Court shows startling disregard for justice from a country long seen as a global leader on accountability for victims of the gravest crimes," said Dewa Mahvinga from Human Rights Watch.
#HRW on #SouthAfrica's proposed withdrawal from the #ICCpic.twitter.com/4kG7LSqIIB

— Dewa Mavhinga (@dewamavhinga) October 21, 2016