DiCaprio to cooperate on Malaysian investment fund corruption probe
Comments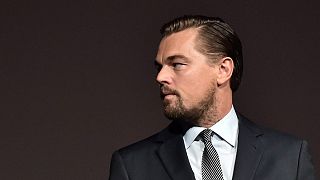 Oscar-winning actor Leonardo DiCaprio has said he will cooperate with investigations of corruption allegations against Malaysia's state investment fund 1MDB.
His charitable foundation has pledged to return gifts or donations that came from the fund.
DiCaprio's foundation, which supports environmental projects, allegedly received the equivalent of almost two million euros in cash and other donations made by a Malaysian financier named in a US lawsuit.
The US Justice Department, and other countries, are investigating some of those involved in the Malaysian fund for alleged money laundering, fraud and misappropriation of at least $3.5 billion (2.3 billion euros).
Picture imperfect
In July a Hollywood production company, Red Granite Pictures, was accused in a US civil lawsuit of using $100 million (91.25 million euros) that prosecutors said had been diverted from the 1MDB fund to finance DiCaprio's 2013 film 'The Wolf of Wall Street'.
Red Granite was co-founded by Riza Shahriz Abdul Aziz, the stepson of Malaysia's Prime Minister Najib Razak. Razak, who set up the 1MDB state investment fund, has denied any wrongdoing.
Red Granite has also said that to its knowledge none of the money it received was illegitimate and that it had done nothing wrong.
DiCaprio's representatives said he had first learned of the probe through press reports in July.
"He immediately had his representatives reach out to the Department of Justice to determine whether he or his foundation, the Leonardo DiCaprio Foundation (LDF), ever received any gifts or charitable donations directly or indirectly related to these parties, and if so, to return those gifts or donations as soon as possible," the statement said.
"All contact was initiated by Mr. DiCaprio and LDF," it said.
Leonardo DiCaprio's LACMA fundraising dragged into Malaysia scandal https://t.co/Qn0nCCeDospic.twitter.com/QmaNp7hEwR

— Hollywood Reporter (@THR) October 19, 2016