Calais starts construction of anti-migrant wall
Comments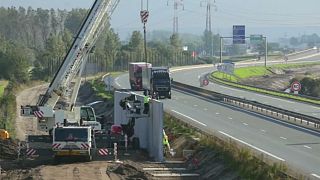 Work has resumed to erect a controversial wall aimed at stopping migrants from illegally entering the Calais ferry terminal.
Four metre high cement panels are being put up. Despite opposition from Calais' mayor, the local administrative body, or 'prefecture', approved the 2.7 million euro project, which is being funded by the UK.
The building work comes as France prepares to dismantle the so called 'Jungle' migrant camp in the port. Something it has vowed to do by the end of the year.