Prisoner release flounders between Kyiv and Russian backed separatists
Comments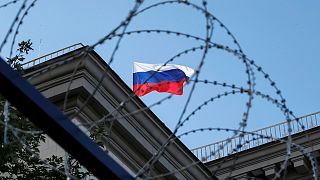 The so-called Minsk Agreement implemented to end the war between Russian-backed separatists and Ukrainian forces is floundering on many levels, but prisoner release appears to be one of the most intractable.
Both sides claim varying figures for how many prisoners they are holding.
The Organisation for Security and Cooperation in Europe (OSCE), the mediator in the peace process, cannot force the exchange of prisoners, while Kyiv and the separatists cannot even agree on prisoner lists.
Both appear to be using the issue to force concessions on other topics, which include holding elections in Ukraine's separatist region and restoring Ukraine's full control over its border with Russia.
Natalya Lazarenko is the wife of captured soldier, Oleksandr Lazarenko:"Unfortunately, the Minsk talks have not produced any results. That's why we ask the European Union, the OSCE, and all the European and International community to help to solve this issue."
Volodymyr Zhemchugov was held by Russian backed separatists for 11 months and claims he was tortured:
"Just repent and we will treat you in a better way.' I said to them that I think they are traitors. That they have set up an occupying regime. And I'm not going to be a traitor."
Release fotos of Volodymyr Zhemchugov, former UN mission rep, who was arrested by Ru forces https://t.co/otASUBE57Jpic.twitter.com/SBanMpM51O

— Euromaidan PR (@EuromaidanPR) September 18, 2016
Nikolai Vakaruk, a coal miner, said he was a blameless civilian improperly held in detention by Ukraine for a year and a-half.
He claims he was seized during a search of his home in the front-line town of Ukrainsk.
Ukraine swapped prisoners with pro-Russian separatists on September 17.https://t.co/v8HLFCSSQn

—

RFE

/RL (@RFERL) September 19, 2016
He claimed he was held in this security service detention facility in Kharkiv, where he was repeatedly beaten in an attempt to get him to confess to being a separatist:
"When I saw the video in which the SBU (Security Service of Ukraine) allowed people to check the place, I recognised all these rooms but there were no people. It means people were hidden somewhere. They had been taken away because if they had been released they would get in touch somehow, through social networks for example."
Amnesty International said Vakaruk was one of 13 prisoners released from the Kharkiv facility in July following the group's report on war prisoners.
#Moscow asks #Kiev to provide information on Russian prisoners in #Ukrainehttps://t.co/fuAZ54lURO

— (((espressino))) (@ulvdis) July 5, 2016
Kyiv accuses the separatists of using the prisoners for blackmail; demanding amnesties in exchange; demanding special status for local government. Ironically before the Minsk agreement, prisoners were handed over more freely.