Icelandic MP breastfeeds baby daughter during parliamentary speech
Comments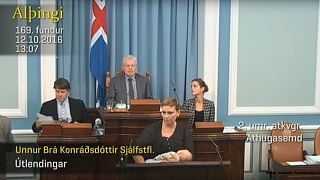 Unnur Bra Konradsdottir, MP for Iceland's Independence Party, breastfed her baby girl while giving a speech at the Althingi Parliament today.
This has never happened before in the country and is probably unique in the world. Attitudes towards breastfeeding in public are considered to be very liberal in Iceland, as this event clearly demonstrates.
The politician expalins why she brought her baby with her to the podium during a speech on immigration law.
Unnur Bra Konradsdottir quote: "She was hungry and I had not expected to go to the pulpit. Then another MP was giving statements on a bill that I put forward on the behalf of the Judicial Affairs Committee, to which I had to respond. So I either had to tear the baby girl of me and leave her crying with the MP sitting next to me or just take her with me and I thought it would cause less disturbance to take her with me".
"She has been with me at the Parliament almost since she was born so my fellow MPs are used to her. She has attended numerous committee meetings with me over the final days of this parliament. Usually she is very calm and when we cast our votes she is sound asleep. So there have never been any incidents before", Unnur Bra Konradsdottir said.