How the world's smallest machines won the Nobel Prize for chemistry
Comments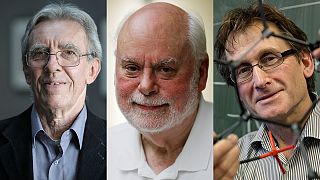 The 2016 Nobel Prize for Chemistry has been awarded for the development of the world's smallest machines.
British scientist Sir James Fraser Stoddart, Frenchman Jean-Pierre Sauvage, and Bernard Feringa from The Netherlands share this year's prize and 8m Kronor (8.3m euros) for their work on molecular structures.
Here is the Euronews guide to the latest Nobel winners.
Who
Sir James Fraser Stoddart
Born in Edinburgh in 1942
He is currently affiliated to the Northwestern University in Illinois in the US.
Jean-Pierre Sauvage
Born in Paris in 1944
He is now emeritus professor at the University of Strasbourg and director of research emeritus at the French National Center for Scientific Research (CNRS)
Bernard Feringa
Born in Barger-Compascuum, (The Netherlands) in 1951.
He is a professor of organic chemistry at the University of Groningen.
He was the first person to develop a molecular motor in 1999.
What
Molecular machines are tiny molecules which can be controlled and perform tasks when energy is added.
The nano-scale technology measures a thousand times thinner than a strand of hair.
The European trios work has not only paved the way for the world's first smart materials.
The technology is already being used to build medical ''micro-robots''and self-healing materials that can repair themselves without human intervention.
Why
Described by the Nobel committee as the ''world's smallest machines'', these could be used to enter inside the human body to deliver drugs, for example, by applying them directly to cancer cells.
They could also be used in the development of new materials, energy storage systems and sensors.
How did they advance this field of research?
After years of research the laureates were able to construct a host of molecular devices, including switches, motors, lifts and even a molecular car.
Sauvage made the first breakthrough towards a molecular machine in 1983, after he succeeded in linking two ring-shaped molecules together to form a chain.