Colombians head to the polls to vote on a historic peace deal with the FARC
Comments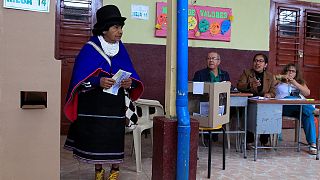 Colombians are being asked to vote Yes or No to a peace deal with the FARC which would bring an end to half a century of conflict with the Marxist rebels.
Recent polls show two-thirds are likely to vote in favour of the agreement signed between the President and the head of the FARC on Monday. The heavy rains didn't dampen the optimism of the Colombian leader.
"I hope that this historic plebiscite will change the history of this country for the better, end a 52-year war and open a path towards peace which will lead us towards a better future,"
The No camp argues a better deal could be made ensure rebels face justice for crimes including torture, rape, and the recruitment of child soldiers, but many prefer prefer peace over the possibility of further bloodshed.
One voter explained,"I voted ´Yes´ because it gives me hope, I am a mother, a teacher, I have a young child and I want to leave him a different country."
"We hope that in the next few years the FARC can secure political participation and that we can end this conflict," said another voter.
For the referendum to be valid, 13% of the electorate must vote Yes, after which the FARC would have to lay down their arms, and have promised to pay reparations to their victims. Some 220,000 people lost their lives over five decades of fighting.
Many took to social media to express themselves under the hashtag "HoyVotoSiALaPaz" (Today I voted Yes to Peace).
Sí sí Colombia… Sí sí a la paz… #YoVotoSiALAPaz#HoyVotoSiALaPaz#HoyVotoSipic.twitter.com/2sxfIBfjJ3

— Aceneth (@periodista19) October 2, 2016
¡Lindo día! Es una alegría enorme este domingo. Entre todos vamos a hacer historia. Les invito a salir a votar. #HoyVotoSiALaPazpic.twitter.com/ouGAWV0SeE

— Antanas Mockus (@AntanasMockus) October 2, 2016
Con convicción, por las victimas, por los soldados, por los guerrilleros, por los que no estan, y por los que vienen #HoyVotoSiALaPazpic.twitter.com/UJ2q3DjDQj

— CampusPAZ Atlántico (@CampusPAZ) October 2, 2016
Give peace a chance! Saliendo de votar #PazParaColombia#HoyVotoSípic.twitter.com/LqxJaUR15j

— Natalia Parra Osorio (@NataliaParraOso) October 2, 2016