Preparations intensify for Mosul offensive in Iraq
Comments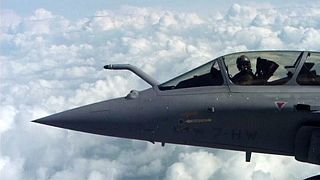 French fighter jets have taken off from the Charles de Gaulle aircraft carrier on a mission targeting the so-called Islamic State in its Iraqi stronghold of Mosul.
Prime Minister Haider al-Abadi and Kurdish leader Massoud Barzani met to discuss the preparations for a final offensive to recapture the city.
Kurdish Peshmerga forces are expected to take part in Mosul offensive, alongside the US-led coalition.
''The coalition forces will be supporting our troops on various levels, including consultation, training, logistic assistance and air support. I'd like to assert that there are no foreign combat forces on Iraqi soil fighting ISIL only the Iraqi security troops whom they fight to drive ISIL out of Iraqi territories," announced al-Abadi.
The premier also urged Barzani not to use the offensive to expand Kurdish territory.
"The aim of the battle should not be territorial conflicts but to free the citizens from the persecution of Daesh (a commonly used Arabic acronym for Islamic State) and God willing a deal would be reached to administer these areas by the city council of the province and the governor of Mosul in accordance with the constitution."
ISIL seized Mosul along with other areas in 2014 , however, Iraqi troops have recently regained much ground from the jihadist group.
The battle to recapture the city is imminent. During his speech at the UN on September 20, al-Abadi said it would begin within a matter of weeks and victory would be claimed by the end of the year.
The UN is warning that those fleeing the onslaught will be in desperate need of aid. More than one million people could be displaced from Mosul, and the UN says it lacks facilities to house 400,000 of them. In July the UN appealed for more than 1 million euros to deal with the aftermath of the offensive, and the UNHCR says it is only 33% funded.
"It is too late if you receive funding when the crisis hits the television screen…Each family plot in a UNHCR camp costs $2,000. We are short of 6,200 family plots, $15 million. It's not cheap," Bruno Geddo, chief of the United Nations refugee agency UNHCR in Iraq, told Reuters newsagency.