Bosnia Serbs vote to keep disputed national holiday
Comments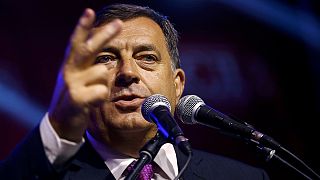 Bosnian Serbs have voted overwhelmingly to keep January 9 as a national holiday in defiance of Bosnia's highest court.
Organisers of the poll said with over two thirds of the votes counted results pointed to 99 percent support for the holiday.
Bosnia's Constitutional Court had ruled the referendum as illegal and that the holiday discriminates against the Croats and Muslim Bosniaks living in the Balkan country.
However a jubilant Bosnian Serb President Milorad Dodik said he was proud of the people of Republika Srpska and proud of all those who voted … and cast shame on those who didn't come out to vote. He also later added that the referendum would go down in history as the "day of Serb determination" and he described it as a great success.
Bosnia is split along ethnic lines between the largely autonomous, mainly-Serb region known as Republika Srpska, and a Muslim-Croat federation.
Most of the region's Muslim Bosniaks and Catholic Croatians oppose the holiday as it coincides with a Serbian Orthodox Christian festival and also marks the Serb territory's 1992 secession from Bosnia which triggered a bloody three-year war
Western diplomats have warned that the referendum and holiday violate the 1995 Dayton peace accords that ended the Bosnian war and could prompt sanctions or criminal charges against the organisers.
Unnecessary referendum in Republika Srpska heightens nationalist tensions in Bosnia. One step could lead to another. https://t.co/Cs4zWuYEGR

— Carl Bildt (@carlbildt) September 25, 2016