Pro-democracy activists in Hong Kong protest against Wukan clashes
Comments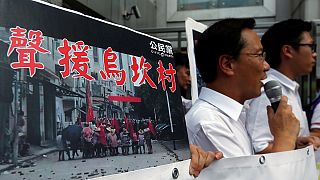 Dozens of Hong Kong activists protested on Wednesday (September 14) against the Chinese government crackdown against a popular village chief in Wukan.
On Tuesday (September 13) police clashed with protesters and arrested about 70 people.
Dramatic video of standoff in Wukan widely shared on WeChat today. pic.twitter.com/fsDW7IJS9v

— Patrick Boehler 包蟠睿 (@mrbaopanrui) September 13, 2016
Hong Kong rights activists fear Tuesday's violence marks a last-ditch push to silence Wukan, a southern fishing village in Guangdong province, which received international attention when a 2011 uprising over land grabs forced authorities to back down and grant local direct elections.
Three pro-democracy parties marched onto China's de-facto embassy in the territory, wielding banners and a box of seasonal mooncakes bearing the faces of political prisoners.
''Five years ago, actually the Communists promised that there would be genuine election, universal suffrage election. And it happened for a while but after five years it was torn down by someone who made the promise,'' he said.
''In fact, according to constitution of PRC, it is the right of every citizen in China to protest on their own rights and if you look into the whole incident of Wukan you can see clearly. This is infringement not only human right but also right of property of the whole village and they are treated unfairly,' said lawmaker Kwok Ka-ki.
The importance of Hong Kong media: https://t.co/WKFFY8MswI Wukan protests. pic.twitter.com/8SKjZCU2bt

— Tom Grundy (@tomgrundy) September 14, 2016
As dusk fell on Wednesday, police started a new round of house-to-house searches, seeking both protest organizers and journalists.
Violence flared in the 10,000-strong hamlet early on Tuesday as police launched pre-dawn raids on homes seeking leaders of protests that had rumbled since June after the arrest of a popular leader. Village chief Lin Zuluan, one of the last of the 2011 protest leaders to remain in office, was jailed this month for three years on graft and other charges.
Villagers threw bricks at police as they advanced with shields, batons and helmets, firing rubber bullets and using teargas. Some residents suffered wounds to their legs, mobile phone footage seen by Reuters showed.
Reuters
#wukan#乌坎 draw by badiucao</a> <a href="https://t.co/KzPcvmCbI6">pic.twitter.com/KzPcvmCbI6</a></p>&mdash; wukan (wukanwukan11) September 14, 2016