Smartphone app lets women report areas where they feel unsafe
Comments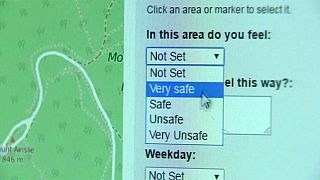 Dark alleyways and empty spaces can often mean danger and a sense of anxiety for the most vulnerable members of society.
Now in a bid to improve safety, the Australian capital of Canberra has come up with a new interactive website where people can give their feedback about where they feel unsafe and why.
For some people certain areas at night are a 'no go', once it gets dark.
Frances McNair is one of many people using the Safety Mapping Tool.
"There are so many places in Canberra where the lighting is just so insufficient, it's so dark and you kind of, you just don't feel comfortable," she says.
The site is designed and managed by the Women's Centre for Health Matters (WCHM) and is funded by the Australian Capital Territory (ACT) government.
"Over the years we know that women often tell us that they find it hard sometimes to be feel safe in public so we've designed a digital tool to try and be able to collect some of that information from women," says Marcia Williams from the Women's Centre for Health Matters.
The WCHM site is accessed via an app or website.
Frances McNair demonstrates how the program works.
"So you've got three selections, you can either choose the rectangle, circle or just the drop pin. And how do you feel? I'm going to say unsafe and why do I feel this way, there's a lack of lighting on the bike paths," she says.
Having the map online makes it accessible and portable.
"If I'm sitting somewhere and I feel really good about the place or I'm not feeling too great, I can take out my phone and I can put in all the information and it gets collected then and there." says McNair.
Like most things on the web, the map is open to comments but the centre says it has safeguards in place to prevent abusive or troll-like behaviour.
"We've deliberately designed the system so the information that's put in isn't available to everyone and we'll be able to sort through that data," says Marcia.
By bringing the feedback together, the site will be able to pass on useful information to government and planning bodies about what works and what doesn't.
"If we can get that information through an interactive portal then we can look at ways that we can make the city feel safer and be more usable for everybody," says ACT Minister for Women Yvette Berry.
Technology giving a voice to the most vulnerable in the community.