Nothing new from European Central Bank despite weak growth forecasts
Comments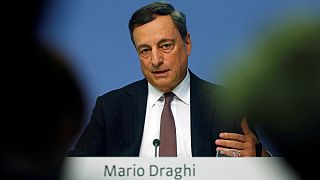 The European Central Bank has decided it does not need to do anything more right now to stimulate the eurozone economy even as ECB President Mario Draghi announced only slight changes to its growth forecasts which remain lacklustre for this year and the next two years.
Draghi: Sept projections: annual real GDP +1.7% in 2016 [June: +1.6%], +1.6% in 2017 [+1.7%], +1.6% in 2018

—

ECB

(@ecb) September 8, 2016
Draghi insisted the bank's policies have been effective: "For the time being, the changes are not substantial to warrant a decision to act. We see that our monetary policy is effective."
The lack of growth was – again – blamed a lack of economic reforms by governments and also the Brexit vote.
In his introductory comments he told reporters: "The economic recovery in the euro area is expected to be dampened by still subdued foreign demand, partly related to the uncertainties following the UK referendum outcome, the necessary balance sheet adjustments in a number of sectors and a sluggish pace of implementation of structural reforms."
QE extension not even discussed
A major way the ECB is trying to create growth is by pumping 80 billion euros a month into the eurozone economy by printing money to buy bonds, otherwise known as quantitative easing.
The effects have been minimal and it running out of suitable purchases so Draghi said bank experts will now look at what changes are necessary to make the programme run more smoothly.
Well #ECB meeting was a bit of a damp squib – have to wait now for the committee beavers to do their work on what to do with QE!

— Howard Archer (@HowardArcherUK) September 8, 2016
The ECB left interest rates unchanged, which was expected, but Draghi said an extension of the bond buying programme had not even been discussed by policymakers, which disappointed investors and European stock markets fell after he spoke.
The euro rose, hitting a two week high against the US dollar.