Venezuelans march to demand recall referendum
Comments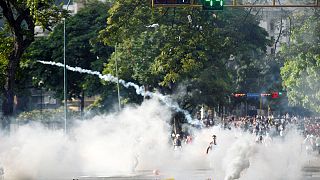 Hundreds of thousands of anti-government protesters have hit the streets of Venezuela's capital Caracas to demand a recall referendum on President Nicolas Maduro's rule.
The opposition Democratic Unity coalition said at least one million people had taken part in Thursday's march.
The socialist government's supporters also held a big counter rally.
Despite widespread anger over runaway inflation, chronic food shortages and rampant crime, Maduro has accused his opponents of plotting a coup against him.
''We're fighting against deprivation, against hunger. This country is suffering insecurity. The government steals, traffics drugs, kidnaps. We want the government to go and this is why all of Venezuela is here. We don't want this government anymore, we want to free our country. Long live Venezuela,'' one anti-government protester told Euronews.
Opposition leader Jesus ''Chuo'' Torrealba, said: ''The will of the people is stronger than the threat of government violence. You can see that, from the number of people that have mobilised. These people can't be threatened by fear or hunger.''
Lilian Tintori, the wife of jailed opposition leader Leopoldo Lopez, also took part in the protest.
''Today we are telling the world, 94 percent of Venezuelans want a change. A change of government and we'll achieve it,'' she said.
Another anti-government protester said: ''You can see how serious things are. This is the reality. We really need help, we are in a total emergency situation.''
The opposition hope the rally will pile pressure on the country's electoral authorities to allow them to launch the second petition needed to trigger the recall vote.
Reporting from Caracas, Euronews' Eduardo Salazar Uribe said:"The march has been described as an historic mobilisation by opposition leaders. They have said the next rally on September 7 will go to the National Electoral Council to demand a date for the recall referendum on Nicolas Maduro's rule. "