Banks pull the plug on South Korea's Hanjin Shipping
Comments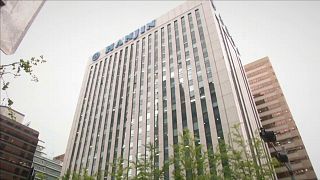 One of the world's biggest container shipping firms, South Korea's Hanjin Shipping, is headed for bankruptcy after the lenders it has borrowed money from pulled the plug.
Hanjin Shipping has a debt pile of 5.6 trillion won (4.48 billion euros) and not enough business to pay it back. It has not been profitable for several years and the banks have rejected as "inadequate" its self-rescue plans involving parent company Hanjin Group.
South Korean officials have ruled out a merger between Hanjin and rival Korean shipping line Hyundai Merchant Marine, which is also under a debt restructuring programme.
Globally, the shipping industry has been slashing costs and forming alliances to try to weather a downturn in trade and overcapacity.
The company is part of the Hanjin Group, the country's 11th-largest conglomerate and parent of Korean Air Lines.
The group said it was disappointed in the banks' decision and would support the shipping industry even if Hanjin Shipping enters receivership.
#Hanjin Group pledges to stand by Hanjin #Shipping as receivership looms https://t.co/rA4evup85vhanjin_official</a> <a href="https://t.co/tYPW2UZkdy">pic.twitter.com/tYPW2UZkdy</a></p>&mdash; IHS Maritime & Trade (IHS4Maritime) August 30, 2016
A bankruptcy for Hanjin Shipping, the world's seventh-largest container carrier, would be the largest ever for a container shipper in terms of capacity, according to consultancy Alphaline.
Hanjin Shipping operates about 60 regular routes worldwide, the company said, and ranked sixth in market share for Asia-North America shipping routes in the first half of 2016 based on cargo volume, according to trade data provider Datamyne.