The iconic images of children suffering in war
Comments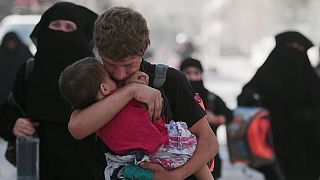 Viewers are almost immune now to the dusty aftermath of air strikes on city streets in Syria on their television screens.
By using this picture, we aim to raise awareness of people to the Syrian migrant crisis

Editor of Turkey's Hurriyet newspaper website
RAW: Moment airstrike hits mosque in Douma, Syria [Video] https://t.co/NgDPeqfc87

— #teamyardhype (@yardhypeHD) April 1, 2016
But as in every war, there are scenes and images that will always have the power to shock, such as that of the five year old boy Omran Daqneesh sitting bloodied, dirty and confused in the back of an ambulance in the city of Aleppo a few days ago.
Millions around the world are rightly shocked by these horrific images and we all feel a measure of sadness. Why should children suffer like this? There doesn't seem to be an answer.
Images like that of the body of Aylan, a Syrian child refugee washed ashore on a beach in Turkey, have the power to make the whole world pause and reflect.
Images of Omran and Aylan reveal so much of Syrian horror https://t.co/eUYlZ4jdv9pic.twitter.com/eCiB7YXIQ6

—

CNN

Philippines (@cnnphilippines) August 20, 2016
But perhaps what is most shocking is that after a few days of media coverage life seems to go on as it did before.
Journalists, such as the editor of Turkey's Hurriyet newspaper website, are clear as to why these images are published.
"By using this picture, we aim to raise awareness of people to the Syrian migrant crisis, the Iraqi migrant crisis, and the migrant crisis in general, to put a human face to it," Zeynep Gurcanli said.
Every few years an image of a child caught up in conflict becomes iconic.
In Gaza in 2000 it was 12 year old Palestinian boy Muhammad Jamal al-Durrah. He had been shot dead, although the Palestinians and Israelis have never been able to agree which side shot him.
It was actually the image of his father shielding him from Israeli bullets moments shortly he died that became iconic. Here was another innocent child being exposed to violence that no child should ever have to face.
In 1985 the National Geographic photo of 13 year old Sharbat Gula became the image of suffering after years of war in Afghanistan. Still a child, her vivid green eyes challenged the viewer directly, her hard life already etched on her face. Her intense eyes seemed to represent life itself and her too-soon aged face reflect the suffering that makes so many children's lives a misery in conflict zones.
1 of my favourites the iconic "Afghan girl" Sharbat Gula, by Steve McCurry 1984 NatGeoMag</a> cover 1985 <a href="https://twitter.com/hashtag/WorldPhotoDay?src=hash">#WorldPhotoDay</a> <a href="https://t.co/6wWcRO231k">pic.twitter.com/6wWcRO231k</a></p>— Ane Menik Andreasen (AneMenik) August 19, 2016
In 1993 it was a photo taken in Sudan by photojournalist Kevin Carter. He watched as a vulture came closer to a starving boy resting in the dirt whilst his parents went to receive some food aid at a UN feeding centre. The photo was published around the world, becoming instantly iconic, a horrific symbol of famine and the world's selfishness in allowing it to occur.
ActualidadRT</a> <a href="https://twitter.com/SoyFlordeMaria">SoyFlordeMaria Periodista salvadoreña me recuerda el caso de Sudán https://t.co/6c4fz4yAkY

— Omar Estuardo Lemus (@omarelemus) August 14, 2016
Carter had scared the vulture off, but returning home to South Africa he faced criticism that he did not rescue the child. The following year he killed himself.
Perhaps the most famous image of a child in war in recent times was a girl running naked down a road in Vietnam in 1972 after suffering a napalm attack.
Photojournalist nickut</a>, author of iconic Vietnam War pic of the "napalm girl", is retiring <a href="https://t.co/tEfdCxhQq2">https://t.co/tEfdCxhQq2</a> <a href="https://t.co/ZsBFAjUWe6">pic.twitter.com/ZsBFAjUWe6</a></p>— ℳℴ Keita (ModKeita) August 22, 2016
Some believe the power of the image of nine year old Kim Phuc suffering horrific burns from the chemical attack brought the war to an end seven months later.
Of course it's impossible to measure whether one image has had the power to change the course of a war.
Certainly many war journalists have concluded that, however much suffering they report on it doesn't appear to make any difference, the violence continues and children and civilians still suffer.
But what is indisputable is the power these images have had, even if it's only been for a few minutes, to shock.
And for just a few minutes at least they've forced millions of people around the world to acknowledge the inhumane suffering that war wreaks on children and civilians.