Bus carrying journalists comes under fire in Rio
Comments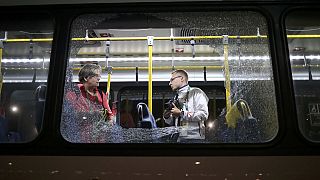 A bus carrying journalists between Olympic venues in Rio was hit by gunfire on Tuesday.
Two shots were heard and the windows of the bus were left shattered.
No-one was seriously injured but those on board were clearly shaken.
"No only just a wound from the glass pieces but nothing too big, luckily. It could be so much worse. It could be more bullets, could be a bullet targeting someone. I guess we are all lucky to be alive now," Kaan Korkmaz, an Olympic Volunteer from Turkey said.
"I'm not a firearms expert, I just know what a gun sounds like and I would say from my experience that it was a small calibre handgun that was shot at the bus at an angle because the sound was not that of a heavy rifle. The sound was smaller," said Sherryl "Lee" Michaelson, a retired U.S. air force captain working for a basketball magazine.
Brazilian police haven't commented on what the motive for the shooting may have been. The attack comes days after another shooting which narrowly missed journalists near the equestrian centre. Officials said that incident was likely to have been carried out by a gang member trying to shoot at police.