Another Day in Sporting Paradise: being a fan at Rio 2016
Comments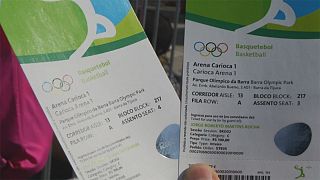 Sunday – day two of the Olympics – saw fans continue their Rio routine, heading off to their chosen event, in the Brazilian sunshine.
But what if you don't have a ticket? Well that might explain some heated conversations taking place around the sporting venues, with pieces of paper exchanging hands for various amounts of money.
Those selling tickets they can't use themselves can turn to the official, online Rio 2016 Ticket Resale Programme.
But it is not to everyone's taste.
"When you put them on the official site to be resold, if they are still there after three days, they keep them and you don't get a refund," one woman said, insisting that is why she was trying to sell a ticket she can't use herself.
Which Rio will Olympic visitors see? It depends on your tickets https://t.co/KSqM0wMTNupic.twitter.com/AstO3pnD4U

— Bloomberg (@business) 7 août 2016
But it is not all work and no play, with plenty of entertainment on offer for spectators in between competitions.
Many like to head to their 'National House' where visiting delegations create unofficial embassies for fans from their home country and beyond.
Bart Van Poppel, from the Netherlands, has found a haven in his homeland's 'National House' in Rio.
"It's a little piece of home here in Brazil," he said.
"It is a break for us, having the chance to speak Dutch a bit because all day we try to speak English to people but no-one understands us."
The Danish Pavilion, Germany Beach House and Jamaica House are among the other national outposts helping to create the magic of Rio 2016.
As the sporting events continue, not all fans will have the chance to mingle with the athletes.
But then again, not all fans are the US Secretary of State!
Had a great time representing the U.S. in Rio & mtg w/ many of our @TeamUSA athletes. Wishing you all good luck! pic.twitter.com/rzgxSVIjzy

— John Kerry (@JohnKerry) 7 août 2016