Australians' Rio mishaps: and now, robbery
Comments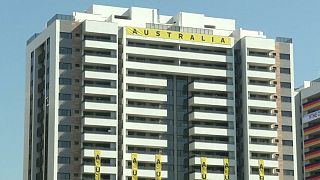 The Australians sure will remember their stay at the Olympic Village in Rio.
They were our 'Zika' shirts: long-sleeved yellow shirts that had just been delivered

Australian team chief
Over the weekend, they had to evacuate the building after a fire broke out in the basement. And when they came back, their team shirts and a laptop had disappeared.
Fire in Rio's Olympic Village forces evacuation of about 100 Australian athletes, officials https://t.co/whotkpmWiepic.twitter.com/KihkR6eMQI

—

ABC

News (@ABC) July 30, 2016
IT equipment was also "rifled through," said team chief Kitty Chiller. She could not say whether the laptop contained sensitive data, or how many shirts were missing.
"They were our 'Zika' shirts: long-sleeved yellow shirts that had just been delivered to the village and we had them all lined up in piles on the reception desk, in an outdoor common space," Chiller told a news conference.
"Unfortunately in an area of that size, with the number of buildings, and number of rooms that there are, unfortunately, theft is going to be inevitable," she said, adding that security was immediately increased, with four private guards at the entrance doors and more noticeable identity checks.
Blocked toilets, alarm system switched off
The Australian team had initially refused to move into the building, because of gas leaks, power and plumbing problems, and general filth.
Chiller had complained about exposed wiring and blocked toilets, saying the accommodation was "not safe or ready" for athletes who were put up in hotels while contractors rectified matters.
The athletes and staff moved in last week after workers made some last-minute repairs.
After Plumbing, Electrical Problems, Australian Athletes Move into Rio Olympic Village https://t.co/szD7nkavb2pic.twitter.com/lv0CGWOcCO

— Voice of America (@VOANews) July 28, 2016
The fire was blamed on a cigarette thrown into debris. The Australian mission is now reminding all staff and contractors that the entire village is a smoke-free one.
With the incident, the Australians also discovered that the alarm system had been deactivated while workmen were fixing the neighbouring building. Officials had to go knocking from door to door to alert about 100 athletes.
Chiller said all debris had now been cleared and organisers have recommended the civil and military fire brigades improve communication.
Why did the Australian Olympic team refuse to move in to Rio's Olympic Village? https://t.co/0UuziHXZbU

— AJ+ (@ajplus) July 27, 2016
Aussie athlete slept through Olympic fire evacuation https://t.co/vJE9xDuqJu

—

ESPN

Olympics (@ESPNOlympics) July 31, 2016