Bloodshed in Kabul as ISIL murder scores of minority Hazara
Comments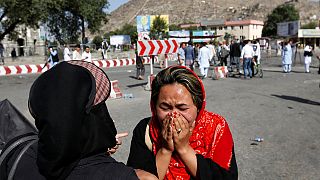 As many as 80 people have been killed and around 230 injured in a suicide bomb attack in the Afghan capital Kabul.
ISIL have claimed responsibilty for the assault on a Shi'ite Hazara protest march.
Twin blast rock #Kabul during #Hazara's protest, casualities fearedhttps://t.co/1LjfQRg9COpic.twitter.com/pSaekI9WEy

— Online Indus (@onlineindus) July 23, 2016
The minority Hazara are of Mongolian and Central Asian Origin.
They were demanding access to a new electricity power line:"We heard a loud, terrible explosion and everyone was covered in blood," said one marcher.
ISIS claims suicide attack on Kabul protest by Hazara minority, 61 killed https://t.co/2Y5unoCUdkpic.twitter.com/hLCb416Ihs

— Huffington Post (@HuffingtonPost) July 23, 2016
Another said they were warned about the possibility of carnage:"Today we came out asking for justice in a peaceful manner, the government warned us we would be killed if we did and today we have been killed."
The Afghan government confirmed they feared a terrorist attack on the march.
The protesters want the new power line to pass through their impoverished Hazarajat province.