Ukraine: CCTV emerges of car bomb that killed Journalist
Comments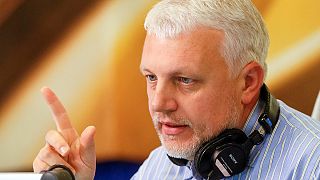 CCTV footage of the moment a car bomb ripped through a Belarusian journalist's car in Kyiv has emerged.
I don't know what's going to happen tomorrow.

Pavel Sheremet murdered journalist
Slain Kiev-Based Journalist Pavel Sheremet Complained of Being Followed Before His Deathhttps://t.co/gILgHtKOUKpic.twitter.com/u3zoqmlJey

— The Interpreter (@Interpreter_Mag) July 20, 2016
The Ukranian President expressed his belief that the assassination of Pavel Sheremet on Wednesday was an attempt to 'destabilise the country ahead of possible further events.'
His many enemies
Pavel Sheremet, was an award-winning journalist, and an outspoken critic of the Belarusian, Ukranian and Russian governments. He was a friend of the murdered Russian opposition figure Boris Nemtsov and had himself expressed fear about his enemies in Ukraine and Russia. In a October 2015 interview with Reuters he said:
"I am under constant suspicion here ( in Ukraine). Some think I'm an FSB agent, others that I am a Russian spy or someone else, so I don't know what's going to happen tomorrow…. And every time I go to Moscow, it's like I'm in a minefield. Every time I expect some form of provocation or problems."
Fallen comrades
Sheremet's friend Nemtsov, a vocal critic of the Kremlin, had been working on a report examining the Russian military's role in the Ukraine crisis when he was shot dead in central Moscow last year. Sheremet led tributes at his memorial service.
Boris Nemtsov and Pavel #Sheremet. Symbols of principles and their cost in former Soviet Union via tvrain</a> <a href="https://t.co/txL0uIAA2M">pic.twitter.com/txL0uIAA2M</a></p>&mdash; Ian Bateson (ianbateson) July 20, 2016
In 2002, Sheremet won a journalism prize from the Organization for Security and Cooperation in Europe (OSCE) for his reporting on human rights violations in Belarus, including the disappearances of opposition politicians and journalists. His former boss, Georgiy Gongadze, also came to a violent end in 2002 when his decapitated head was found in a forest near Kyiv.
Poroshenko's reaction
The Ukranian President Petro Poroshenko speculated about the motivation for the killing at a press conference he said:
" It seems to me it was done with only one aim – to destabilize the situation in the country, possibly ahead of further events".
Waiting for FBI</a> experts <a href="https://twitter.com/MVS_UA">MVS_UA, investigators NPU_GOV_UA</a> look for evidenses in vehicle <a href="https://twitter.com/pavelsheremet">pavelsheremet was killed. pic.twitter.com/ySjHxWw2Ne

— Artem Shevchenko (@Artem_Shewa) July 21, 2016
Bad memories
This is an uncomfortable reminder of the days of media repression which Sheremet fought against. He said, "Now the problem of freedom of speech and objective journalism is again becoming a serious issue,"
Terrible loss–journo PavelSheremet</a> murdered in horrific <a href="https://twitter.com/hashtag/Ukraine?src=hash">#Ukraine</a> blast. Killers must be found&punished. <a href="https://t.co/89UP97pOXA">pic.twitter.com/89UP97pOXA</a></p>&mdash; Samantha Power (AmbassadorPower) July 20, 2016