Drone launched to 'monitor fraud' in Ukraine parliament
Comments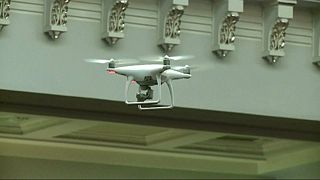 The Ukrainian parliament has been disrupted by a drone, launched by an opposition party member to monitor potential voting fraud.
A session was interrupted when Igor Lutsenko from the "Fatherland" party sent the drone into the Rada, which was considering new regulations on public utilities and the energy sector.
Politicians disagreed over whether its true purpose was really to monitor fraud or simply disrupt proceedings.
Ukraine's parliament is considering a raft of measures aimed at tackling waste and corruption in line with Western demands.