Police killed in Bangladesh attack
Comments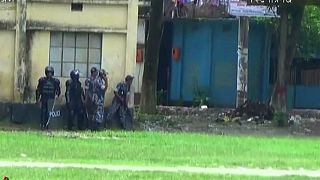 At least two police officers have been killed by militants who have targeted Bangladesh's biggest festival marking the end of Ramadan.
It is reported two attackers also died.
Nine police officers were injured and have been taken to hospital.
What happened?
A group of men targeted a police post with small bombs and what are described as "sharp weapons."
Around 300,000 people had gathered nearby for prayers to mark Eid, the end of the holy month of Ramadan.
Where did it happen?
In the town of Kishoreganj, 140 kilometres from the capital, Dhaka.
It comes after 20 people, the majority of them foreigners, died in an attack on a cafe in the capital last week which ISIL claim to have carried out.