Italian journalists cleared in Vatican leaks trial, two others convicted
Comments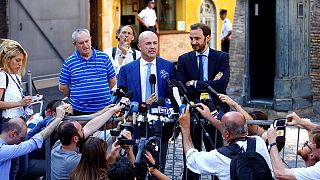 Two journalists have been cleared by a Vatican court of publishing leaked documents claiming the top of the Catholic Church was plagued by corruption.
The court in the so-called "Vatileaks II" trial said it had no jurisdiction over Gianluigi Nuzzi and Emiliano Fittipaldi because the journalists, who had been accused of seeking to make money, were not Vatican officials.
One of the acquitted journalists spoke outside the court afterwards.
"I think the Vatican judges have been courageous because this sentence in a way shows that even here the right to work as a journalist is respected, to recount things that are true and verified, important news," Emiliano Fittipaldi said.
A Spanish priest, Angel Lucio Vallejo Balda, was given an 18-month sentence and a public relations expert, Francesca Chaouqui, a 10-month suspended term. They had been accused of leaking confidential documents.
"Today my ordeal finishes anyway. The court said I was not guilty of the crime of divulging news. And so the Holy Father, when he reads this sentence, he will know that I have not betrayed him," said Chaouqui, who has a three-week-old son.
A fifth defendant, Nicola Maio, an assistant to Vallejo, was acquitted.
The two reporters published books last year that depicted a Vatican afflicted by corruption and greed, where Pope Francis faced stiff resistance from the old guard to his reforms.
Media watchdogs accused the Roman Catholic Church of looking to stifle press freedom.