German parliament votes for 'No means No' rape law
Comments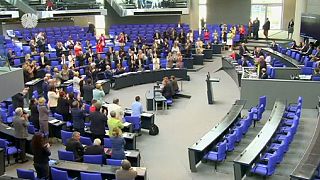 "No means no" when it comes to rape – so says the German parliament after a unanimous vote.
All 601 lawmakers in the lower house the Bundestag decided to toughen laws, seeking to reassure a public shaken by mass attacks on women on New Year's Eve that were largely blamed on migrants.
Under the new rules, all forms of non-consensual sexual contact will be punishable, regardless of the circumstances.
They aim to close loopholes that made convictions difficult if evidence was lacking that violence had been used, or when victims did not resist.
"Previously, in order for a rape to be punishable, the person affected either had to resist or the offender had to use violence or threaten violence. Now it's not like this anymore, now it's enough to say 'no' and this means that many sexual assaults that until today were totally exempt from punishment, nothing happened, those can be at least be prosecuted if denounced," said Katja Grieger, member of the 'Women against violence' activist group.
Hundreds of women in Cologne said they were groped, attacked and robbed at New Year outside the train station.
Police said the suspects were mainly of North African or Arab appearance.
The attacks prompted an awareness campaign launched by women's rights activists – and a debate about the challenge to integrate the new arrivals.