Hungary calls "quota referendum" for October 2nd
Comments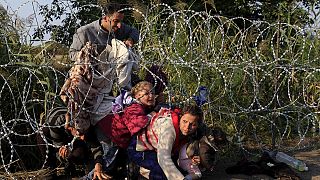 The Hungarian president János Áder has announced the date for the so-called "quota referendum" for October 2.
Hungarians will be invited to approve or reject taking a quota of migrants and refugees which the EU is trying to get all member states to approve in order to share the burden which is mainly being carried by Germany, Greece and Italy.
Prime Minister Viktor Orban is against taking any, and wants a popular mandate to defy Brussels.
"Right after the Brexit referendum one of the most important conclusions that the Hungarian government made was that the people's voice should be heard, so they were already referring to their referendum campaign here in Hungary, with what they would like to achieve, increasing their bargaining power with the EU saying that this is what most of the Hungarian people want," says political analyst Edit Zgut.
Hungary rapidly threw up fences on its border with Serbia last summer as refugees from Syria, Afghanistan and Iraq started arriving in waves, but one problem for Orban is that any Hungarian referendum struggles to reach a 50% turnout. Below that the result is invalid. The campaign, which the government has already started, will now go into overdrive.
"In the campaign which officially starts now the governing parties and probably the far-right Jobbik will tell the voters to say NO to Brussels. The left wing parties on the other hand will campaign for YES to win," reports euronews' Andrea Hajagos in Budapest.