NASA's Juno probe slips into Jupiter's orbit
Comments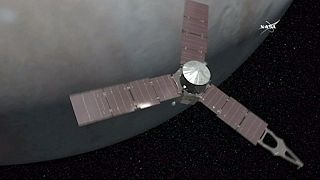 NASA is celebrating after its Juno spacecraft slipped into Jupiter's orbit.
It was a risky maneouvre. The positioning had to be perfect for it to be captured by gravity – a wrong move would have see it sail by.
Once in position to begin its 20-month science mission, Juno will fly in egg-shaped orbits, each one lasting 14 days.
The aim is to find out if Jupiter has a dense core beneath its clouds and to map its massive magnetic field.
The probe will also hunt for water in the thick atmosphere, a key yardstick for figuring out how far away from the sun the gas giant formed.
Engine burn complete and orbit obtained. I'm ready to unlock all your secrets, #Jupiter. Deal with it.

—

NASA

's Juno Mission (@NASAJuno) 5 July 2016
Launched from Florida almost five years ago, it is the only solar-powered spacecraft ever dispatched to the outer solar system.
Jupiter, which could hold 1,300 Earths, orbits five times farther from the sun than Earth. But it may have started out elsewhere and moved, jostling its smaller sibling planets as it did so.
Main engine burn is go. I'm burnin', burnin', burnin' for you, #Jupiter. pic.twitter.com/b3SHm3Gphj

—

NASA

's Juno Mission (@NASAJuno) 5 July 2016