The EU's 27 leaders 'unite' as they view the future minus the UK
Comments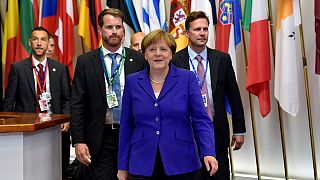 EU leaders meeting for the first time in 40 years without their British counterpart have been discussing the UK's exit and the future without it.
There will be no single market a la carte

European Council President
The 27 members made a pledge of unity and spelled out stark conditions for a new relationship with departing Britain warning that if it wanted to retain access to Europe's single market, the country must accept European workers too.
After urging Britain to begin the formal process of leaving the EU as soon as possible, European Council President Donald Tusk issued a warning:
"Access to the single market requires acceptance of all four freedoms, including the freedom of movement. There will be no single market a la carte."
Freedom of movement 'on the table' for Brexit talks says French minister https://t.co/SiGhkaRJZxpic.twitter.com/Ymy52A5plJ

— Press Association (@PA) June 29, 2016
Belgian Prime Minister Charles Michel went on to call the British vote a wake-up call for Europe saying: "It's important to have this meeting of 27 because it will show the unity of the 27."
But some officials have claimed the show of unity was a facade, punctured in the meeting by calls from Poland and the Czech Republic for the EU to do less and return more powers to national capitals.
Germany issued its own warning that Brexit was bound to have an impact on the bloc's economy as a whole and that measures should be taken to limit any damage.
Chancellor Angela Merkel said:
"None of the estimates and predictions tell us, that this will create momentum for growth. So we'll have an interest in concentrating more on efficiency and growth to offset what we lose here by the UK leaving us."
While reform proposals were put forward on security, and migration, on ending the summit the leaders also called for a period of political reflection. Europe needs to make decisions and to recognise what was described as the "democratic and social deficit" to understand why the British people decided to leave in the first place.