ISIL 'loses 2,500 fighters' in battle for Fallujah
Comments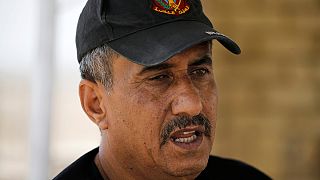 Iraqi troops are continuing to battle ISIL militants in pockets of the city of Fallujah, days after the government declared the centre had been liberated.
Latrines, toilets and sanitation, if we don't get those in order in the next hours it is going to be catastrophic

Regional media adviser at Norwegian Refugee Council
At the same time Iraq's elite military force – the counter terrorism service (CTS) – says the joint offensive in Falluja has killed over 2,500 militants.
IRAQ – Government forces clash with IS group fighters in Fallujah. By AFPphoto</a> <a href="https://t.co/em2SQ2B6oM">pic.twitter.com/em2SQ2B6oM</a></p>&mdash; Frédérique Geffard (fgeffardAFP) June 18, 2016
With the fighting continuing senior military official CTS General Abdul Wahab Alsaidi claims more advances will soon be made and that a push into northern and western areas of the city will soon be complete:
"They try to attack our troops to prove their existence, their greatest effort is on the western axis. When the western axis collapses and the troops reach the Golan neighbourhood, then you will not hear any other gunshots in Falluja."
A separate military official said most of the remaining militants were foreigners who were not able to hide among residents or sneak into other parts of the country.
Humanitarian crisis
Meanwhile, aid workers have warned a humanitarian crisis is unfolding around the city amid a civilian exodus. More than 83,000 people have fled Falluja and 25,000 are said to be on the move.
Reception camps such as the one at Amariyat Al Fallujah which are supposed to take in displaced people are said to be overwhelmed. The regional media adviser at the Norwegian Refugee Council, Karl Schembri said that thousands of Iraqis were sleeping out in the open and there was insufficient water, food and medical care.
"We are concerned right now as we speak there are thousands without any tents, without any shelter, they have slept overnight out in the open; they are now stranded out there in a sand storm, under the scorching sun, without any protection. And the question of latrines, toilets and sanitation, if we don't get those in order in the next hours it is going to be catastrophic."
An additional 30,000 civilians have fled Fallujah since Friday, overwhelming already packed displacement camps https://t.co/uGlzJaLu7e

— Dr. Nussaibah Younis (@Nussaibah) June 20, 2016
Fallujah was the first Iraqi city to fall to the extremist group ISIL, in January 2014, and is the last major ISIL foothold in the sprawling Anbar province, the heartland of the country's Sunni minority.