Reusable rocket survives "Apollo 15 test"
Comments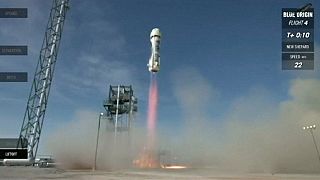 The American firm Blue Origin has safely launched and landed its New Shephard rocket for the fourth time, describing the mission test as 'impeccable'.
The spaceflight company founded by Amazon boss Jeff Bezos carried out the operation from Texas, sending the rocket to an altitude of 100 kilometres.
The operation is said to have brought reusable rockets one step closer, which would dramatically reduce the costs of space flight.
Fourth flight. Same hardware. Reusable rockets love to fly. #RocketsReused#GradatimFerociterpic.twitter.com/CaRQTI3dOI

— Blue Origin (@blueorigin) June 19, 2016
It will do no harm either to Blue Origin's goal of being the first private company to send tourists into space.
Built-in to the latest mission test was a deliberate hitch – the firm purposely failed to deploy one of the capsule's main parachutes to see if it could make it back in one piece. The answer was yes.
Bezos has previously cited the Apollo 15 mission in 1971 when one parachute failed, to justify testing what's thought to be an unlikely scenario.
Within 11 minutes of the launch, New Shephard's rocket and crew capsule had soft-landed back to Earth.
Smooth landing with one chute out #GradatimFerociterpic.twitter.com/tyipXecjV2

— Blue Origin (@blueorigin) June 19, 2016