Medecins Sans Frontieres rejects EU funds over 'Europe's refugee shame'
Comments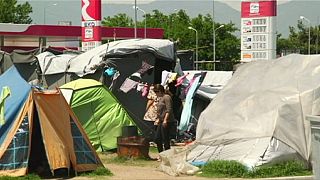 In protest at the European Union's deal with Turkey aimed at stemming the flow of migrants and refugees, Medecins Sans Frontieres (MSF) says it will reject all funding from the EU and its member states.
Under the agreement Turkey pledged to halt illegal migration through its territory in return for financial and political rewards.
The medical aid charity, otherwise known as Doctors Without Borders, says the action will cost it 56 million euros in funding.
"Today MSF denounces Europe's damaging deterrence policies and the intensifying attempt to push people and their suffering back to other countries. The EU deal (with Turkey) is the latest in a long line of policies that go against the values and the principles that enable assistance to be provided," MSF's Secretary General Jerome Oberreit told a news conference in Geneva.
"It's really important to see the real people instead of the political football that they have become," he said. "We're talking about Europe's refugee shame."
Oberreit said the EU-Turkey deal simply outsourced Europe's obligations and set a precedent for other countries that risked triggering a global domino effect.
He added that the charity gets 92 percent of its funds from private donations.
MSF said in a tweet that none of its patients would be affected by the decision and emergency funds would be used to keep projects going.
The charity has three vessels patrolling the Mediterranean and says it's rescued more than 3,000 people since April.
On Friday the aid group said its members had saved 140 people on a boat in the Mediterranean on Wednesday. MSF said 38 women and 18 children were among those rescued.
MSF says its stance could cost it 60 million euros.
The European Commission insisted the charity's decision would not impact on the EU's relief effort in Turkey.
European Commission Chief Spokesperson Margaritis Schinas said: ''MSF is not an implementing partner of EU humanitarian aid in Turkey. Neither has MSF submitted any requests for funding of their activities in Turkey, therefore no life-saving humanitarian aid for refugees in Turkey will be affected."
In a statement released earlier this week before MSF's announcement, the European Commission also said the deal with Turkey was "delivering results" – leading to a reduction in the number of people crossing the Aegean or losing their lives on the way from Turkey to Greece. It added that while EU countries had increased their efforts on resettling refugees, progress was still "too slow".
The EU says it gives more than a billion euros a year to help refugees forced to flee their homes due to conflict, persecution and natural disasters.
Despite positive signs, progress is still too slow: action must be accelerated https://t.co/e8jiGdlXv7#MigrationEUpic.twitter.com/c0otgaYUcr

— European Commission (@EU_Commission) June 15, 2016
Jerome Oberreit, MSF International Secretary General, explains why we will no longer seek #EU & Member State funds pic.twitter.com/Ti4f7ftA5O

—

MSF

International (@MSF) June 17, 2016