Russia cuts cost of borrowing as inflation falls
Comments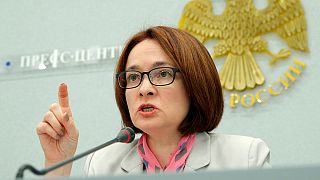 Russia's central bank has cut its main interest rate by 0.5 percent to 10.5 percent.
The reduction in the cost of borrowing is the first since July 2015.
The move – which was expected by most economists – pushed up the value of the rouble slightly
and lowered the amount of interest that investors demand to buy government bonds.
The Russian currency is up by around 25 percent since hitting a record low in January, thanks to a recovery in global oil prices.
The interest rate cut signals confidence by the bank's policymakers that inflation risks are declining, helped by the rouble's gains.
inflation has fallen sharply over the last year and remained stable at 7.3 percent for the last three months, a better-than-expected outcome that suggests the bank is on track to meet its target of 4 percent inflation by the end of 2017.
In a statement the bank said it "will consider the possibility of a further cut based on estimates for inflation risks and alignment of inflation decline with the forecast trajectory".
Russia's central bank cuts key interest rate for first time in 10 months https://t.co/3iFsqV4TcRpic.twitter.com/a8g5UMyIdl

— bne IntelliNews (@bneintellinews) June 10, 2016