Louisville prepares for Muhammad Ali's funeral
Comments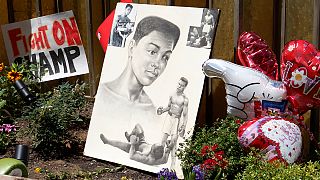 Tributes cover the pavements of Louisville, in memory of boxing legend Muhammad Ali.
The Kentucky city is preparing to welcome former US President Bill Clinton, Turkish leader Recep Tayyip Erdogan and actor Billy Crystal among thousands of mourners expected at his public funeral on Friday.
June 4, 2016
Presiding over the service will be California-based scholar and imam, Zaid Shakir.
"Mohammad Ali transcended any particular community," he said. "He was a global figure. He is a giant. And I think it's only fitting that all communities, all nations have an opportunity to participate in this last episode."
Ali is internationally recognised as one of the greatest boxers of all time. His funeral is to be broadcast live on the Internet.
---
Tributes
Paul on the passing of Muhammad Ali: https://t.co/AfhcmeL4Vqpic.twitter.com/2wuQdrAtJf

— Paul McCartney (@PaulMcCartney) June 4, 2016
Hundreds pay tribute to Muhammad Ali at boyhood home https://t.co/Zcjcxay1hepic.twitter.com/acEbyOQA6z

— CBC News (@CBCNews) June 6, 2016
Michael J. Fox tells us about Muhammad Ali: "He made no apologies, but understood kindness" https://t.co/cm4nhwEckQ

— Rolling Stone (@RollingStone) June 6, 2016
VIDEO: @Arsenal director Ken Friar lays a wreath at Highbury in memory of Muhammad Ali: https://t.co/U6PJEvHdsrpic.twitter.com/mzGN0NxE1B

— Arsenal FC (@Arsenal) June 6, 2016